INCREASE OF EFFICIENCY OF DIAMOND GRINDING SUPERHARD OF MATERIALS
Keywords:
superhard polycrystallic materials, destruction processes, diamond grinding, wheel working surface, combined direction, system "polycrystal - grain - bond".
Abstract
The analysis of algorithm of expert system of process of diamond grinding superhard of materials (SHPM) is given. For realization of the offered expert system the ways of grinding with the combined control of parameters of a working surface of diamond circles are developed.The designed ways of superhard polycrystallic material diamond grinding basing on control of a grinding wheel surface with usage of simulation of destruction processes of the system "polycrysta-grain–wheel bond" considered.
References
Kundrák, J., Fedorenko, D.O. Fedorovich, V.,,,Fedorenko, E.Y., Ostroverkh, E.V. Porous diamond grinding wheels on ceramic binders: Design and manufacturing/ Manufacturing Technology 2019, Vol. 19, No. 3, pp 446-454.
A.I. Grabchenko, V.A. Fedorovich, I. Pyzhov, J. Kundrak. 3D simulation of Vibrating Diamond Grinding / Manufacturing Technology June 2014, Vol. 14, № 2. pp. 153 – 160. MK CR E 20470 ISSN 1213–2489;
Grabchenko, A., Fedorovich, V., Pyzhov, I., Babenko, E., Klimenko, V. Simulation of Grinding Process of Polycrystalline Superhard Materials / Key Engineering Materials Vol. 581 (2014) pp 217–223. Trans Tech Publications, Switzerland.
Mamalis, A.G., Grabchenko, A.I., Fedorovich, V.A.,, Paulmier, D., Horvath, M. Development of an expert system of diamond grinding of superhard polycrystalline materials considering grinding wheel/International Journal of Advanced Manufacturing Technology. 2001, pp .498-507;
V.A.Fedorovich. The ways of grinding with combined control of cutting wheel relief. Kharkov, MicroCAD`99, 1999;
Wilks E.M. and Wilks I. Experiments on the grinding and polishing of diamond. I.D.R., 1966. V.26. №304.
V.A.Fedorovich, S.A.Grinko. Algorithm of interaction model of system elements "SHPM-grain" during grinding. Kharkov, Cutting and Tools, 1999, Vol.53.
V.A.Fedorovich. Specific consumption and specific wear of diamond grains during SHPM grinding. Kharkov, Cutting and Tools, 1999, Vol.54.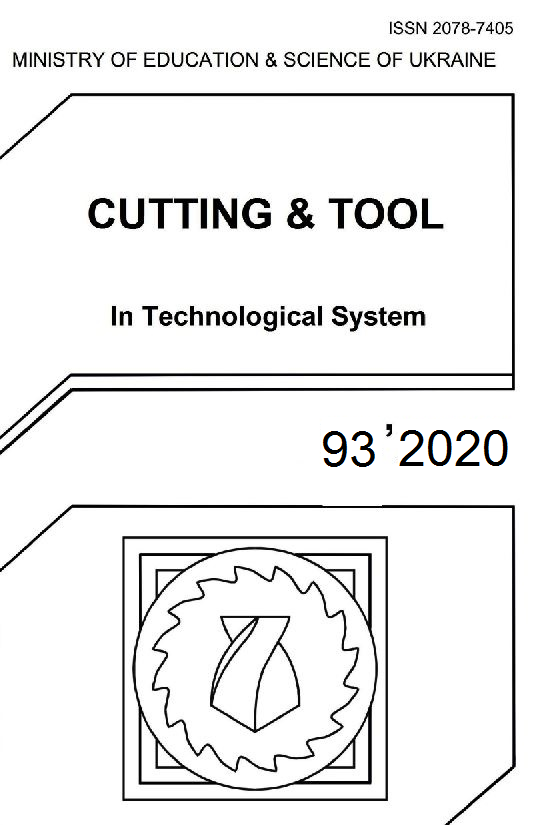 Downloads
Section
Mechanical processing of materials, the theory of cutting materials, mathematical and computer simulation of machining p
License
Copyright Notice
Authors who publish with this Collection agree to the following terms:
1. Authors retain copyright and grant the Collection right of first publication with the work simultaneously licensed under a Creative Commons Attribution License that allows others to share the work with an acknowledgement of the work's authorship and initial publication in this Collection.
2. Authors are able to enter into separate, additional contractual arrangements for the non-exclusive distribution of the Collection's published version of the work (e.g., post it to an institutional repository or publish it in a book), with an acknowledgement of its initial publication in this Collection.
3. Authors are permitted and encouraged to post their work online (e.g., in institutional repositories or on their website) prior to and during the submission process, as it can lead to productive exchanges, as well as earlier and greater citation of published work.