FINISH MACHINING OF THE CUTTING INSERTS FROM CUBIC BORINE NITRIDE BL GROUP COMPOSITE
Keywords:
diamond machining, vibro-magnetic-abrasive machining, cutting inserts, CBN, surface roughness, friction forces
Abstract
Finishing methods of machining of superhard composite's working elements based on cubic boron nitride BL group are considered. The results of the microgeometry formation research of the cutting inserts' surfaces during machining by free powders of synthetic diamond, grinding wheels and a method of vibro-magnetic-abrasive machining (VMAM) are presented. It is shown that during VMAM the friction between the inserts' surfaces and the abrasive particles result in microremoval of the material, which reduces the roughness of the cutting inserts' surfaces. It is established that additional fine grinding with 14/10 mkm synthetic diamond powder provides the absence of microgeometry defects of the cutting inserts' surfaces left by pre-machining. The result of high-quality rounding of cutting edges and the formation of surfaces of cutting inserts with less roughness is an increase in strength and wear resistance of metal-cutting tools in high-speed machining under conditions of significant loads.
References
Instrumenty iz sverkhtverdykh materialov / pod red. N.V. Novikova, S. A. Klimenko. – Moscow: Mashinostroyeniye, 2014. – 608 p.
V.O. Trilisskiy, G.S. Bol'shakov, A.V. Lipov,
Ye. N. Yarmolenko. Finishnaya obrabotka smennykh mnogogrannykh plastin s tsentral'nymi otverstiyami. Izvestiya VUZ. Povolzhskiy region. Tekhnicheskiye nauki. – 2010. – № 2 (14). –
pp. 131–137
Burykin, V.V. Obrabotka detaley tortsevoy frezoy, osnashchennoy polikristallicheskimi sverkhtverdymi materialami. Inzheneriya poverkhnosti i renovatsiya izdeliy: mat. mezhdunarod. nauch.-tekhn. konf., 20–24.05.2019, g. Svalyava. – Kyiv: ATMU, 2019. – pp. 25–29
A. S. Manokhin, S. A. Klimenko, S. An. Klimenko, V. M. Beresnev. Perspektivnyye tipy pokrytiy dlya instrumentov, osnashchennykh polikristallicheskim KNB. Nadtverdí materíali. – 2018. – № 6. – pp. 78–88
V.M. Gakh. Vibroabrazivnaya obrabotka tverdosplavnogo instrumenta. Kramatorsk: DGMA, 2009. – 220 p.
L.M. Akulovich, L.Ye. Sergeyev. Tekhnologiya i oborudovaniye magnitno-abrazivnoy obrabotki metallicheskikh poverkhnostey razlichnogo profilya. – Minsk: BGATU, 2013. – 372 p.
S.An. Klimenko, A.O. Chumak. Víbro-magnítna-abrazivna obrobka rízal'nikh plastin íz PKNB. Nadtverdí, kompozitsíyní materíali ta pokrittya: otrimannya, vlastivostí, zastosuvannya: tezi mízhnarod. nauk.-tekhn. konf., 28–29.05.2020, m. Kyiv: ÍNM NAN Ukraí̈ni, 2020. – pp. 7–8
S. A. Klimenko, V. Í. Burlakov, Yu. Ye. Rizhov ta ín. Patent Ukraí̈ni na korisnu model' № 143357. Sposíb obrobki bagatogrannikh plastin z nadtverdoí̈ keramíki // Byul. «Promislova vlasníst'». – 2020. – № 14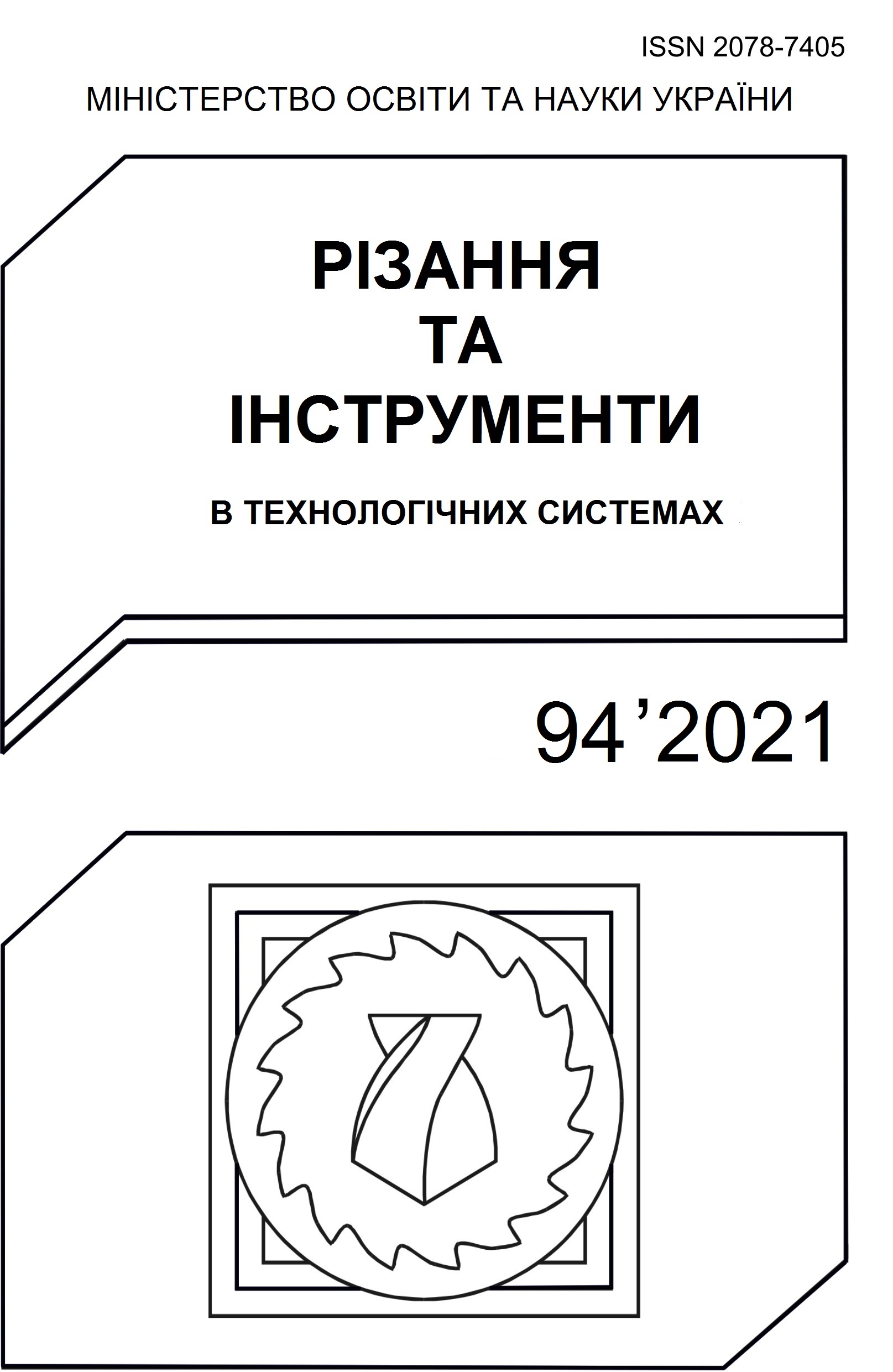 Downloads
Section
Mechanical processing of materials, the theory of cutting materials, mathematical and computer simulation of machining p
License
Copyright Notice
Authors who publish with this Collection agree to the following terms:
1. Authors retain copyright and grant the Collection right of first publication with the work simultaneously licensed under a Creative Commons Attribution License that allows others to share the work with an acknowledgement of the work's authorship and initial publication in this Collection.
2. Authors are able to enter into separate, additional contractual arrangements for the non-exclusive distribution of the Collection's published version of the work (e.g., post it to an institutional repository or publish it in a book), with an acknowledgement of its initial publication in this Collection.
3. Authors are permitted and encouraged to post their work online (e.g., in institutional repositories or on their website) prior to and during the submission process, as it can lead to productive exchanges, as well as earlier and greater citation of published work.