THE EFFECT OF ELASTIC RECOIL OF CLOSED-TYPE LIFTING ROPES AFTER THEIR MANUFACTURE AND DRAWING
Abstract
A study was made of stresses and factors of internal forces in the elements of ropes of a closed structure during their manufacture. It is established that when twisting a rope of closed construction, its shaped wires suffer from bending deformation, twisting and stretching. In this case, the shaped wires are subjected to a complex load with the concomitant rotation of the axes of the stress tensor. The stresses in the elastic cross-sectional area of the rope wire are considered and its limit is determined for shaped cross-sections and for asymmetric shaped cross-sections. Formulas for approximate determination of tangential and normal stresses in the elements of a closed rope of non-circular profile are obtained: (wedge-shaped, zeta-shaped and x-shaped).
References
Kozlov V.T. An experimental study of the moments of elastic recoil rope closed. Wire ropes: Scientific and Technical, 1999, Issue. 6, pp. 45-49.
Kozlov V.T., Kalinichenko P.M. Svivochnyh study stress and internal force factors in ropes closed construction. Wire ropes: Scientific and Technical, 1999, Issue. 5, pp. 71-75.
Danenko, V.F., Gurevich, L.M. Optimization of the Gaps in Spiral Closed Ropes to Ensure Their Structural Integrity. Russ. Metall. 2021, 643–647 (2021). https://doi.org/10.1134/S0036029521050062.
Harutyunyan, N.H., Abrahamian, B.L. Torsion of elastic bodies. Moscow 2003.
Gurevich, L., Danenko, V., Bogdanov, A. et al. Analysis of the stress-strain state of steel closed ropes under tension and torsion. Int J Adv Manuf Technol 118, 15–22 (2022). https://doi.org/10.1007/s00170-021-07128-w.
Saint-Venant 5. Memoir of the torsion of prisms. – Moscow: Fizmatgiz, 2001.
Feyrer K. (2015) Wire Ropes, Elements and Definitions. In: Wire Ropes. Springer, Berlin, Heidelberg. https://doi.org/10.1007/978-3-642-54996-0_1.
Kurz, J.H., Laguerre, L., Niese, F. et al. NDT for need based maintenance of bridge cables, ropes and pre-stressed elements. J Civil Struct Health Monit 3, 285–295 (2013). https://doi.org/10.1007/s13349-013-0052-5.
Kurgan V., Sydorenko I., Prokopovich I., Yeputatov Y., Levynskyi O. (2021) Synthesis of Elastic Characteristics Based on Nonlinear Elastic Coupling. In: Tonkonogyi V. et al. (eds) Advanced Manufacturing Processes II. InterPartner 2020. Lecture Notes in Mechanical Engineering. Springer, Cham. https://doi.org/10.1007/978-3-030-68014-5_17.
Danenko, V.F., Gurevich, L.M. Simulation of the State of Stress in Locked-Coil Ropes during Tension and Torsion. Russ. Metall. 2021, 1196–1202 (2021). https://doi.org/10.1134/S0036029521100128.
Pištora J., Lesňák M., Valíček J., Harničárová M., Vrabko V. (2019) Magnetic Field Distribution Around Magnetized Steel Ropes and Its Modulation by Rope Defects. In: Öchsner A., Altenbach H. (eds) Engineering Design Applications. Advanced Structured Materials, vol 92. Springer, Cham. https://doi.org/10.1007/978-3-319-79005-3_15.
Weiss M.P., Ashkenazi R., Elata D. (2006) A Unified Fatigue and Fracture Model Applied to Steel Wire Ropes. In: Gdoutos E.E. (eds) Fracture of Nano and Engineering Materials and Structures. Springer, Dordrecht. https://doi.org/10.1007/1-4020-4972-2_116.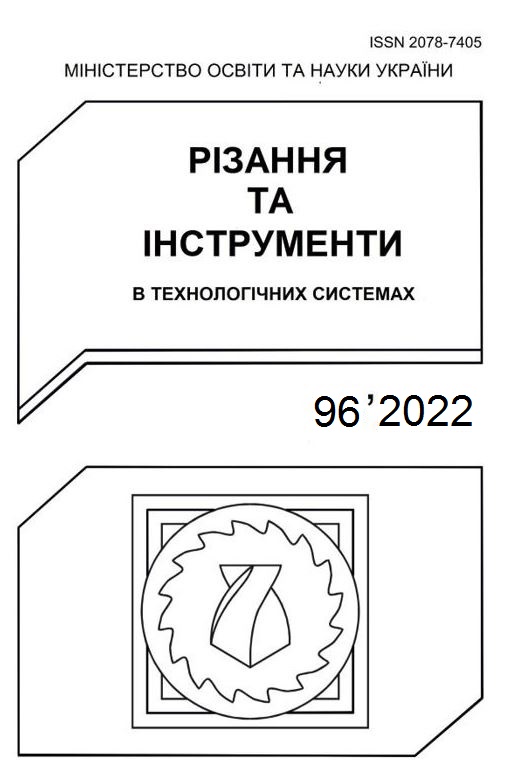 Downloads
Section
Mechanization and automation of production processes; technological problems
License
Copyright Notice
Authors who publish with this Collection agree to the following terms:
1. Authors retain copyright and grant the Collection right of first publication with the work simultaneously licensed under a Creative Commons Attribution License that allows others to share the work with an acknowledgement of the work's authorship and initial publication in this Collection.
2. Authors are able to enter into separate, additional contractual arrangements for the non-exclusive distribution of the Collection's published version of the work (e.g., post it to an institutional repository or publish it in a book), with an acknowledgement of its initial publication in this Collection.
3. Authors are permitted and encouraged to post their work online (e.g., in institutional repositories or on their website) prior to and during the submission process, as it can lead to productive exchanges, as well as earlier and greater citation of published work.