SURFACE MODIFICATION OF SYNTHETIC GRINDING POWDERS DIAMOND WITH HEAT-RESISTANT OXIDES AND CHLORIDES LIQUID PHASE APPLICATION METHOD
Keywords:
modification, method of liquid-phase deposition, thermal stability, oxides, physical properties, modification of oxides, diamond grinding powders
Abstract
The restrictions to the selection of oxides, which may be interesting in the modification of forging heat-resistant oxides of the surface of diamond grinding powders, are defined. It is shown that the first group of the most efficient applied for modifying the surface of the diamond grinding powders includes the following oxides – B2O3, TiO2, SiO2 and Al2O3. The second group, less effective – ZnO, BaO and CaO. To achieve an additional positive effect from the modification it is possible to consider a double modification of surface of diamond grains with a mixture of oxides of the first group and chloride (СаСl2, NaCl). The process of grain surface modification of synthetic diamond grinding powders by heat-resistant oxides and chlorides of metals and non-metals by liquid phase application has been studied. The structural characteristics of the external structure have been studied and the quantitative elemental composition of the surface of modified powders has been determined. It is established that to achieve a guaranteed increase in wear resistance of diamond wheels when grinding hard alloys at least 2 times it is recommended to modify the surface of diamond grains with a combination of oxides: B2O3 grain surface modification (50 % grain) and Al2O3 grain surface modification (50 %).
References
Lavrinenko V.I., Solod V.Yu. Oxidation or oxide materials in the machining zone in superabrasive grinding–a factor of influence on the grinding performance. J. Superhard Mater. 2016. vol. 38, no. 6. pp. 417–422.
Lyubarskiy I.M., Palatnik L.S. Metallofizika treniya Metal Physics of Friction (in Russian). Moscow: Metallurgiya, 1976. 176 p.
Latyishev V.N., Naumov A.G. Ob effektivnosti ispolzovaniya kisloroda v protsesse rezaniya On the efficiency of oxygen use in the cutting process (in Russian). Rezanie i instrument v tehnologicheskih sistemah. 2001. № 60. pp. 121–127.
The effect of UV and thermally induced oxidation on the surface and structural properties of CVD diamond layers with different grain sizes / Anna Dychalska, Marek Trzcinski, Kazimierz Fabisiak, Kazimierz Paprocki, ... Mirosław Szybowicz. (2022) Diamond and Related Materials. V. 121. 108739.
Graphitization of synthetic diamond crystals: A morphological study / Boris B.Bokhonov, Dina V.Dudina, Marat R.Sharafutdinov. (2021) Diamond and Related Materials. V. 118. 108583.
Investigation on abrasive wear mechanism of single diamond grain in flexible scribing titanium alloy / Qinghong Wan Lai, Zou Shiqi Liu, Tingting Wang, Shengtian Chen, Yun Huang. (2021) Diamond and Related Materials. V. 120. 108631.
Diamond Lapping of Sapphire Wafer with Addition of Graphene in Slurry / Hsien-Kuang Liu, Chao-Chang A.Chen, Wei-Chung Chen. (2017) Procedia Engineering. V. 184. pp. 156-162.
Tribological properties of oxidized wood-derived nanocarbons with same surface chemical composition as graphene oxide for additives in water-based lubricants / Hiroshi Kinoshita, Kyoko Suzuki, Tsutomu Suzuki, Yuta Nishina. (2018) Diamond and Related Materials. V. 90. pp. 101-108.
Adsorption and deposition of micro diamond particles in preparing diamond magnetic abrasives by electroless composite plating / Bin Yang, Wenzhuang Lu, Wei Feng, Xu Yang, Dunwen Zuo. (2017) Diamond and Related Materials. V. 73. pp. 137-142.
Exploring the activation energy of diamond reacting with metals and metal oxides by first-principle calculation/ Ao Deng, Jing Lu, Dongxu Li, Yanhui Wang. (2021) Diamond and Related Materials. V. 118. 108522.
Growth and characterization of chemical vapor deposition diamond coating incorporated amorphous carbon with high Raman bands induced by CuO particles / Naichao Chen, Fasong Ju, Fan Zhou, Shuai Chen, Kun Wei, Ping He. (2021) Diamond and Related Materials. V. 116. 108387.
Morphological features and phase composition of W-containing coatings formed on diamond via its interaction with WO3 /
A.V. Ukhina, D.V. Dudina, B.B. Bokhonov, D.V. Savintseva, D.A.Samoshkin, S.V. Stankus. (2022) Diamond and Related Materials. V. 123. 108876.
Effect of V2O5 addition on the wettability of vitrified bond to diamond abrasive and grinding performance of diamond wheels / Shuai-peng Chen, Xiao-pan Liu, Long Wan, Peng-zhao Gao, Wei Zhang, Zhi-qiang Hou. (2019) Diamond and Related Materials. V. 102. 107672.
The effects of SiO2 coating on diamond abrasives in sol-gel tool for SiC substrate polishing / Jing Lu, Yongchao Xu, Yunhe Zhang, Xipeng Xu. (2017) Diamond and Related Materials. V. 76. pp. 123-131.
Enhancing the oxidation resistance of diamond powder by the application of Al2O3 conformal coat by atomic layer deposition / D.Dominguez , H.Tiznado, H.A.Borbon-Nuñez, F.Muñoz-Muñoz, J.M.Romo-Herrera, G.Soto. (2016) Diamond and Related Materials. V. 69. pp. 108-113.
Two-dimensional hole gas formed at diamond surface by Al2O3/diamond interface engineering Kongping Wu, Yong Zhang, Jianli Ma, Zhifen Fu, Changzhao Chen. (2020) Diamond and Related Materials. V. 105. 107807.
Preparation and properties of Al2O3-reinforced Cu-Ni-Sn metallic matrix for applications in diamond-cutting tools/ Feng Chen, Zhiqiao Yan, Zhenpeng Liu, Ying Long, Naike Fu, Fenglin Zhang, Bin Liu, Yong Liu. (2020) Diamond and Related Materials. V. 109. 108025.
Thermal stability of polycrystalline diamond compact sintered with boron-coated diamond particles / Xiaohua Sha, Wen Yue, Haichao Zhang, Wenbo Qin, Dingshun She, Chengbiao Wang. (2020) Diamond and Related Materials. V. 104. 107753.
Effect and corresponding mechanism of NaCl additive on boron carbide powder synthesis via carbothermal reduction / Xin Li, Shuai Wang Dan, Nie Kun Liu, Shu Yan, Pengfei Xing. (2019) Diamond and Related Materials. V. 97. 107458.
Temperature and defect effects on the mechanical properties of pentadiamond / Huasong Qin, Guoqiang Zhang, Yingyan Zhang, Lang Qin, Yilun Liu,Qing-Xiang Pei. (2021) Diamond and Related Materials. V. 118. 108523.
Poltoratskiy V.G., Bochechka A.A., Lavrinenko V.I., Tkach V.N., Petasyuk G.A., Bilochenko V.A., Leschenko O.V., Grischenko G.S. Modifitsirovanie shlifporoshkov sinteticheskogo almaza i kompaktov na osnove mikroporoshkov cBN termostoykimi oksidami i hloridami metodom jidkofaznogo naneseniya.  Modification of synthetic diamond grinding powders and compacts based on CBN micropowders with heat-resistant oxides and chlorides by liquid-phase deposition (in Russian). Porodorazrushayuschiy i metalloobrabatyivayuschiy instrument – tehnika i tehnologiya ego izgotovleniya i primeneniya: Sb. nauch. tr. Vyip.
Kyiv: ISM im. V. N. Bakulya, 2019. pp. 317–327. ISSN 2223-3938. 22. Murovskiy V.A., Kutsovskaya A.M., Chistyakov E.M. Vliyanie sredyi na intensivnost goreniya almaza  The influence of the environment on the intensity of diamond burning (in Russian). Sinteticheskie almazyi. 1971. № 5. pp. 31–33.
Samsonov G.V., Vinitskiy I.M. Tugoplavkie soedineniya Refractory compounds (in Russian). Moskow: Metallurgiya, 1985. 560 p.
Fiziko-himicheskie svoystva okislov: Spravochnik Physical and chemical properties of oxides: Handbook / pod red. G.V. Samsonova. Moskow: Metallurgiya, 1978. 472 p.
Novikova S.I. Teplovoe rasshirenie tverdyih tel Thermal expansion of solids (in Russian). Moskow: Nauka, 1974. 294 p.
Lifshits B.G., Kraposhin V.S., Linetskiy Ya.L. Fizicheskie svoystva metallov i splavov Physical properties of metals and alloys (in Russian). Moskow: Metallurgiya, 1980. 320 p.
Lavrinenko, V.I., Solod, V.Yu., Kashynskyi, I.S., Dobroskok V.L. Determination of oxides intended for the surface modification of diamond grains by the functional characteristics. Journal of Superhard Materials, 2020, Vol. 42, No. 6, pp. 417–422.
P.F. Wang, Zh.H. Li, J. Li, Y.M. Zhu. Effect of ZnO on the interfacial bonding between Na2O–B2O3–SiO2 vitrified bond and diamond. Solid State Sciences. 2009. V. 11, Is. 8. P. 1427-1432.
Karnauhov A.P. Adsorbtsiya. Tekstura dispersnyih i poristyih materialov Texture of dispersed and porous materials (in Russian). – Novosibirsk: Nauka. Sibirskoe predpriyatie RAN, 1999. – 470 p.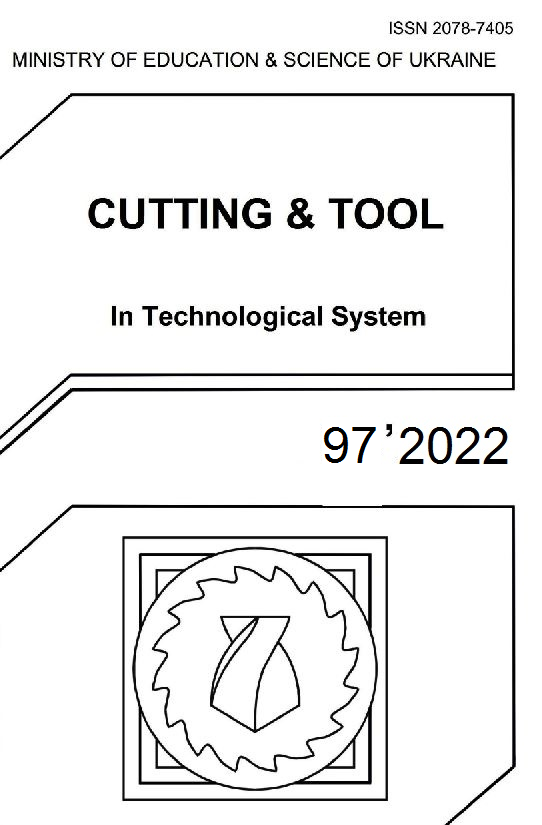 Downloads
Section
The ability to use tools from new materials
License
Copyright Notice
Authors who publish with this Collection agree to the following terms:
1. Authors retain copyright and grant the Collection right of first publication with the work simultaneously licensed under a Creative Commons Attribution License that allows others to share the work with an acknowledgement of the work's authorship and initial publication in this Collection.
2. Authors are able to enter into separate, additional contractual arrangements for the non-exclusive distribution of the Collection's published version of the work (e.g., post it to an institutional repository or publish it in a book), with an acknowledgement of its initial publication in this Collection.
3. Authors are permitted and encouraged to post their work online (e.g., in institutional repositories or on their website) prior to and during the submission process, as it can lead to productive exchanges, as well as earlier and greater citation of published work.