MODERN DEVELOPMENTS RELATED TO THE DIRECTED IMPACT ON THE CUTTING SURFACE OF A DIAMOND ABRASIVE TOOL AND ITS CONTACT ZONE IN THE PROCESSES OF MACHINING (REVIEW)
Keywords:
diamond abrasive tool, cutting surface, contact zone, mechanical processing, defects of diamonds, electrophysical influence
Abstract
This article provides information on modern developments in the direction of directed impact on the cutting surface of a diamond-abrasive tool and its contact zone in machining processes. For the most part, such processing is faced with issues of influence on the cutting surface of diamond tools, including ruling mechanical and electrophysical, taking into account the defectiveness of the diamonds that undergo processing, the directed influence on the surface of such diamonds, thermal and modification of the surface of diamonds. Such developments make it possible to significantly intensify processing processes and increase the efficiency of the diamond abrasive tool. That is why, in this review, the main attention is paid to the presentation of modern developments, known from scientific publications, mainly for the last 5 years, related to the above-mentioned issues.
References
H. Sumiya, K. Harano. Micro-scale abrasion investigations of single-crystal diamonds using nano-polycrystalline diamond wheels. Diamond and Related Materials. Volume 126, June 2022, 109108.
Nanoscale smooth and damage-free polycrystalline diamond surface ground by coarse diamond grinding wheel / Yunxiang Lu, Bo Wang, Qing Mu, Ke Yang, He Li, Andreas Rosenkranz, Nan Jiang, Ping Zhou. Diamond and Related Materials. Volume 125, May 2022, 108971.
Mirror-grinding of single-crystal diamond substrates with a rotary grinder / Hideo Aida, Ryuji Oshima, Hiroki Minamigata, Shogo Kawaguchi, Junpei Tokutake, Juan Manuel Del Angel Sifuentes, Yutaka Kimura. Diamond and Related Materials. Volume 121, January 2022, 108733.
Polishing of polycrystalline diamond using synergies between chemical and mechanical inputs: A review of mechanisms and processes / Chen Xiao, Feng-Chun Hsia, Alexander Sutton-Cook, Bart Weber, Steve Franklin. Carbon. Volume 196, 30 August 2022, рр. 29–48.
Atomic-scale and damage-free polishing of single crystal diamond enhanced by atmospheric pressure inductively coupled plasma / Hu Luo, Khan Muhammad Ajmal, Wang Liu, Kazuya Yamamura, Hui Deng. Carbon. Volume 182, September 2021, рр. 175–184.
Mechanical polishing of ultrahard nanotwinned diamond via transition into hard sp2-sp3 amorphous carbon / Tianye Jin, Mengdong Ma, Baozhong Li, Yufei Gao, Qingliang Zhao, Zhisheng Zhao, Junyun Chen, Yongjun Tian. Carbon. Volume 161, May 2020, рр. 1–6.
Shun-Tong Chen, Chien-Chih Chen, Sheng-Yu Shih. Efficient microspark erosion-assisted machining of a monocrystalline microdiamond stylus using a heat-avoidance path. Precision Engineering. Volume 72, November 2021, рр. 426–436.
Yejun Zhu, Wenfeng Ding, Zhiwen Rao, Changyong Yang. Micro-fracture mechanism of polycrystalline CBN grain during single grain scratching tests based on fractal dimension analysis. Precision Engineering. Volume 59, September 2019, рр. 26–36.
Sheng Wang, Qingliang Zhao, Bing Guo. Wear characteristics of electroplated diamond dressing wheels used for on-machine precision truing of arc-shaped diamond wheels. Diamond and Related Materials. Volume 129, November 2022, 109372.
Nastja Macerol, Luiz F.P. Franca, Radovan Drazumeric, Peter Krajnik. The effects of grit properties and dressing on grinding mechanics and wheel performance: Analytical assessment framework. International Journal of Machine Tools and Manufacture. Volume 180, September 2022, 103919.
On-machine precision truing of ultrathin arc-shaped diamond wheels for grinding aspherical microstructure arrays / Shimeng Yu, Peng Yao, Chuanzhen Huang, Dongkai Chu, Hongtao Zhu, Bin Zou, Hanlian Liu. Precision Engineering. Volume 73, January 2022, рр. 40–50.
Laser sharpening evaluation of diamond wheels based on 3D recognition / Wei Zhou, Genyu Chen, Mengyang Gao, Mingquan Li. Diamond and Related Materials. Volume 129, November 2022, 109354.
Molnar, V.: Designation of Evaluation Area in Measuring 3D Surface Roughness, Rezanie i Instrumenty v Tekhnologicheskih Sistemah 93, pp. 56–64., 2020. doi: 10.20998/2078-7405.2020.93.07.
Efficient and precision dressing of arc-shaped diamond grinding wheel by laser dressing and electrical discharge dressing / Longzhou Dai, Genyu Chen, Mingquan Li, Shangyong Yuan. Diamond and Related Materials. Volume 125, May 2022, 108978.
Jeffrey Badger, Stuart Murphy, Garret E. O'Donnell. Acoustic emission in dressing of grinding wheels: AE intensity, dressing energy, and quantification of dressing sharpness and increase in diamond wear-flat size. International Journal of Machine Tools and Manufacture. Volume 125, February 2018, рр. 11–19.
Preparation and characterization of coated abrasives with domed pyramid thermosetting polyurethane/epoxy/diamond composites by roller embossing: Wear performance / Xudong Song, Yaliu Jian, Wenjun Zou, Jin Peng, Pengzhan Liu, Furen Xiao. Diamond and Related Materials. Volume 120, December 2021, 108632.
Hanzhong Liu, Wenjun Zong, Zhipeng Cui. Durability of micro diamond tools with different crystallographic planes. Journal of Materials Processing Technology. Volume 305, July 2022, 117600.
Coupling of double grains enforces the grinding process in vibration-assisted scratch: Insights from molecular dynamics / Zhongwei Hu, Yue Chen, Zhiyuan Lai, Yiqing Yu, Xipeng Xu, Qing Peng, Long Zhang. Journal of Materials Processing Technology. Volume 304, June 2022, 117551.
Liquid media effect on the abrasion response of WC/Co hardmetal with different cobalt percent / R.V. Magnol, T. Gatti, M.C. Romero, A. Sinatora, C. Scandian. Wear. Volume 477, 18 July 2021, 203815.
Gourhari Ghosh, Ajay Sidpara, P.P. Bandyopadhyay. Performance improvement of magnetorheological finishing using chemical etchant and diamond-graphene based magnetic abrasives. Precision Engineering. Volume 79, January 2023, рр. 221–235.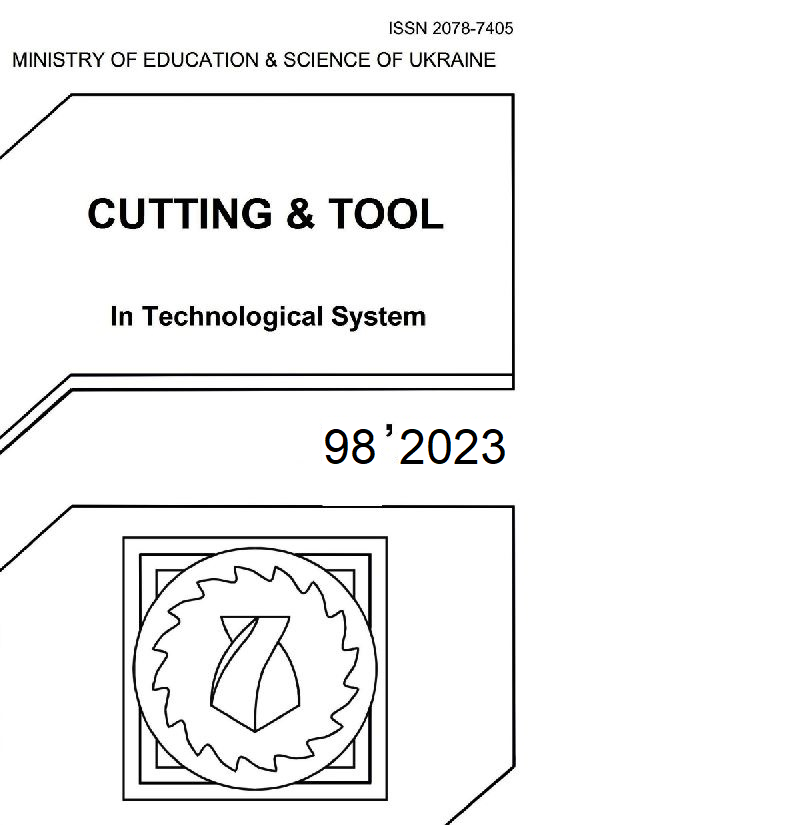 Downloads
Section
Mechanical processing of materials, the theory of cutting materials, mathematical and computer simulation of machining p
License
Copyright Notice
Authors who publish with this Collection agree to the following terms:
1. Authors retain copyright and grant the Collection right of first publication with the work simultaneously licensed under a Creative Commons Attribution License that allows others to share the work with an acknowledgement of the work's authorship and initial publication in this Collection.
2. Authors are able to enter into separate, additional contractual arrangements for the non-exclusive distribution of the Collection's published version of the work (e.g., post it to an institutional repository or publish it in a book), with an acknowledgement of its initial publication in this Collection.
3. Authors are permitted and encouraged to post their work online (e.g., in institutional repositories or on their website) prior to and during the submission process, as it can lead to productive exchanges, as well as earlier and greater citation of published work.